NetObjects Fusion 2015 - Upgrade
NetObjects Fusion 2015 - Upgrade
ABOUT PRODUCT
---
NetObjects. A proven leader; a brand you can trust.
NetObjects website design solutions have been helping small businesses transition successfully to the online world since 1996. We've licensed over 15 million copies of NetObjects Fusion and it has earned critical praise and worldwide recognition as one of the fastest, easiest ways to build, manage and promote websites.
NetObjects Fusion helps companies advertise and share information, enhance their company's image, and better compete against other businesses. As the originator of the intuitive, site-wide approach to building websites, NetObjects Fusion lets users map out an entire site in minutes while automatically creating and updating navigation and links. Dozens of professionally built SiteStyles® are available or users can create their own style to easily produce a consistent visual theme throughout the site. Site creators can drag and drop text, graphics, and multimedia files into place with pixel-level precision; incorporate HTML from other sources; or add their own code in an enhanced HTML View. Consistent formatting is a snap with Cascading Style Sheets (CSS). Site creators can even dynamically connect to databases and cash in on e-commerce without writing code. At last, there's an all-in-one solution that's all about the success of the small business website creator.
Look at it this way--by focusing on the site instead of the page, the design instead of the code, or the message instead of the means, you can focus on creating the compelling content you need to accomplish your goals online.
NetObjects Fusion is powerful Web design software.
For beginners, intuitive wizards and professionally designed templates get you on-line in minutes. You don't need to know HTML or anything about the Web to have a professional quality website. Experienced Web designers enjoy powerful capabilities required to develop sophisticated Web applications for themselves and their clients.
FEATURES
---
Build Great Sites™
Build websites like a pro. You have complete creative control. Use simple drag and drop interfaces with no coding knowledge required.
All-in-One Solution
NetObjects Fusion is a complete solution for building Web sites, from planning, building, and managing your website, to promoting and growing your on-line business quickly and effectively. Everything you need for Web Design, Image Editing, Database connectivity, FTP, CSS & HTML Editors, Backup, Animation, Task Management and much more is included.
Save Time
Get on-line fast with our intuitive user-interface, powerful wizards, automatic asset management and our visual design layout editor.
Web Design Wizard
Choose from a collection of professional designs. In 3 simple steps you'll have a complete website with content tailored just for you.
E-Commerce
Sell your products on-line. With built-in support for leading payment processors your storefront can be taking orders quickly and easily.
Analytics and SEO
Integrated Google™ Analytics offers detailed information about your site visitors. While automated SEO will boost your website traffic.
NetObjects CloudBurst™
Access to our on-line library of free templates, stock photos, SiteStyles™ and tutorials directly. Install as many items as you like.
NetObjects SiteSafe™
Automatically protect your website assets. In case of disaster easily recover your site from local, external, or on-line backup locations.
NetObjects ImageBank™
Free use of an assortment of high quality, royalty free images. You will never be without new images for your next website.
What's new in netobjects fusion 2015
Image Carousel
Use the new Image Carousel to display any collection of photos in a stunning alternative to the photo gallery. Your photos are presented full sized with the option to automatically advance through the collection. No coding required, just drop in your images and you're done.
HTML 5 Elements
HTML5 is a convergence of several technologies used to make websites interactive. This is a huge leap forward from HTML4, make sure your website is built with HTML5 and built professionally with NetObjects Fusion 2015.
Enhanced Support for CSS3
CSS3 brings a host of new styling capabilities to web pages. Take advantage of animating the elements of a web page, applying different effects such as rounded corners, shadows and many more options. This will give your website that extra sharp look and feel.
Web Fonts
Web Fonts allow you to give personality to your site's content, while making it more readable, accessible and dynamic. NetObjects Fusion 2015 ships with a library of high quality professionally designed web fonts.
New User-Interface
With a new intuitive modern workspace, you'll be more productive and feel right at home. NetObjects Fusion 2015 has a fresh and inviting new look with updated tools to better design and build your websites.
Windows 8 Compatible
Only "Compatible with Windows® 8" software and devices have passed Microsoft-designed tests for compatibility and reliability on PCs running the Windows 8 operating system. "Compatible with Windows 8" products install without worry and run reliably with Windows 8.
Online View
Your dashboard for NetObjects Fusion 2015 has a new look and feel. Tailored to the new design of Windows 8, Fusion 2015's Online View provides you with the look and feel of the tiled approach. Here's where you'll find a library of free resources for Fusion web designers.
New SiteStyles
New Fusion, New SiteStyles. A SiteStyle is a collection of graphic and typographical elements you can apply to every page in your site to create its look and feel. Use pre-built styles from Fusion or custom build your own to create a look and feel right for your site.
New Templates
New Templates come along with NetObjects Fusion 2015. A template is a fully designed page or site that you can use as a starting point for your own pages or sites. A typical template might include a banner and navigation buttons, an assigned SiteStyle, text and Carousel galleries.
TECHNICAL DATA
---
Minimum:
CPU: Intel Pentium III 660MHz processor or AMD equivalent.
512 MB RAM
500 MB free disk space
SVGA display (video card) with a resolution of at least 1024 x 768
Windows XP (32-bit, SP3), Vista, Windows 7, Windows 8
Internet connection
IE8
Java Runtime Environment 1.4
Required configuration
Minimum:
CPU: Intel Pentium III 660MHz processor or AMD equivalent.
512 MB RAM
500 MB free disk space
SVGA display (video card) with a resolution of at least 1024 x 768
Windows XP (32-bit, SP3), Vista, Windows 7, Windows 8
Internet connection
IE8
Java Runtime Environment 1.4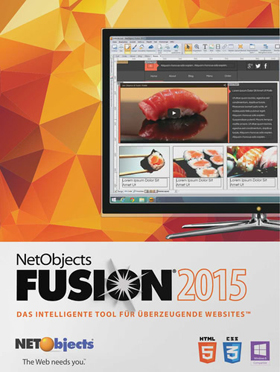 Language:

English

Genre:

Platform:

Vista 32/64 bits SP1 Win 7 32/64 bits Win 8 32/64 bits Win XP SP3

Release date:

03/06/2015

Publisher