PowerDVD 21 Pro
About the Software
PowerDVD is the world's best performing 4K and 8K Media Player with HDR10 support. Playback Blu-raydiscs, ISO files and Ultra HD video files for an unparalleled audiovisual experience. Plus, with support for DTSHD Audio and Dolby True HD Audio, PowerDVD can deliver a cinema-like audio experience wherever youtake it.
Key features
See YouTube like never before
Watch YouTube channels in up to 8k for theul
All major formats supported
Upgrade your home cinema experience withstunning 8K video and support for 4K, HDR 10.Get HEVC, AVC & XAVC-S Hi-defini
Hear the difference
Bring more detail and realism to movie nightswith Dolby Digital Surround, DTS and Hi-Res Audiosupport up to 7.1 channels.
Listen anywhere
Whether you're the designated DJ for the nextroad trip or you need a great workout mix for thegym, organize and compose your favorite tracksand take your playlist with you.
Organize your entertainment
Personalize your media library with customizablethumbnails and poster wall to keep your contentorganized and searchable.
TrueTheater®: Better-Than-Original Quality
CyberLink's unique TrueTheater® enhancementsimprove the quality of your DVDs. Plus, make thebest look even be
Your movies – upscaled
TrueTheater® brings the cinematic experience to your living room. Enjoy richer, more detailed colors with crisper, more balanced sound on any media type.
Stay up-to-date
Access detailed information about movies and TV shows with PowerDVD's extensive content database.
system requirements
Windows - Minimum
OS: Windows 10/8.1/7
Processor: Intel Core 2 Duo 2.66GHz
Disc Drive: DVD drive to play DVDs and CDs
Screen Resolution: 1024 x 768
RAM:4 GB
HDD: 700 MB available space
Graphics card: Intel HD Graphics
Audio Support: PCI sound card or on board audio output
Internet Connection: Required for initial software activation, video codec activation and social media services
Required configuration
Windows - Minimum
OS: Windows 10/8.1/7
Processor: Intel Core 2 Duo 2.66GHz
Disc Drive: DVD drive to play DVDs and CDs
Screen Resolution: 1024 x 768
RAM:4 GB
HDD: 700 MB available space
Graphics card: Intel HD Graphics
Audio Support: PCI sound card or on board audio output
Internet Connection: Required for initial software activation, video codec activation and social media services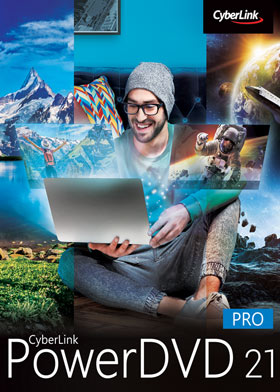 Language:

English

Genre:

Platform:

Win 7 64 bits Win 8.1 64 bits Win 10 64 bits

Release date:

15/04/2021

Publisher