MAGIX Video Deluxe 2021 Plus
MAGIX Video Deluxe 2021 Plus
About The Software
Need the right software for your Let's Plays and gameplay videos? The new MAGIX Video deluxe 2021 Plus is the perfect choice. Fast, powerful and packed full of creative options for video editing, it offers everything you need to show your gaming community how it's done.
Higher quality and speed
With the new INFUSION Engine 2, Movie Edit Pro runs more fluidly than ever before, meaning that even the most action-packed of sequences now play smoothly. Plus, you can now play back 8K media in realtime to edit your videos at full power. HiDPI display lets you enjoy high resolution even when the program interface is resized – everything on screen still look razor-sharp. Everything you need for a clean, smooth and high-performance workflow is included!
Give a unique project a unique look.
Video deluxe offers unlimited options for customizing your gameplay capture! With over 1,500 effects available, you can give your videos a signature look. If the heat of battle resulted in choppy footage, this can be easily fixed and optimized using the sophisticated VEGAS video stabilization tool. Showcase your best gaming moments and unleash your creative potential – the future is now!
Highlights
Up to 1,500 unique effects including special FX
NEW! Fast INFUSION Engine 2
NEW! 8K UltraHD videos
NEW! HiDPI program interface
Professional VEGAS video stabilization
Helpful wizards
Automatic shot match
Multicam and 360° editing
Required Configuration
Windows - Minimum
Requires a 64-bit processor and operating system
OS: Windows 8 | 10 (64-bit)
Processor: 2.4 GHz
Memory: 4 GB RAM
Graphics: Onboard, minimum resolution 1280 x 768
Storage: 2 GB available space
Sound Card: Internal sound card
Additional Notes: Supported import formats Video: (DV-)AVI, HEVC/H.265*, M(2)TS, MJPEG, MKV, MOV, MPEG-1/2/4, MXV, VOB, WMV(HD) Audio: MIDI, MP3, OGG, Surround sound/5.1, WAV, WMA Image: BMP, GIF, JPEG, TGA, TIF Supported export formats Disc: DVD, Blu-ray Disc, AVCHD disc Video: (DV-)AVI, HEVC/H.265*, MJPEG, MOV, MPEG-1/2/4, MXV, WMV(HD) Audio: MP3, Surround sound/5.1, WAV Image: BMP, JPEG *HEVC encoding requires fee-based activation. MP3 export requires installation of Windows Media Player Version 10 or higher.
Windows - Recommended
Requires a 64-bit processor and operating system
OS: Windows 8 | 10 (64-bit)
Processor: 2.8 GHz
Memory: 8 GB RAM
Graphics: Dedicated, at least 512 MB VRAM
Storage: 2 GB available space
Sound Card: Multi-channel sound card recommended for surround sound editing
Additional Notes: Some advanced program functions demand more of your computer's processing power. To get the most from these functions, your system should at least meet the recommended requirements. Check your operating system's control panel for technical information about your computer.
Required configuration
Windows - Minimum
For Microsoft Windows 8 | 10 64-bit systems
All MAGIX programs are developed with user-friendliness in mind so that all the basic features run smoothly and can be fully controlled, even on low-performance computers. You can check your computer's technical data in your operating system's control panel.
Processor: At least 2.4 GHz, 2.8 GHz quad-core processor or better recommended
RAM: At least 4 GB, 8 GB recommended
Graphics card: Onboard, min. resolution 1280 x 1024, 512 MB VRAM and DirectX 11 support (recommended: Intel Graphics HD 520 for MPEG2/AVC/HEVC) INFUSION Engine 2 supports video acceleration for AVC and HEVC on Intel, NVIDIA or AMD GPUs with 1GB VRAM or higher
Example: Intel Graphics HD 630, NVIDIA Geforce GTX 1050, AMD Radeon RX470
Recommended configuration for 8K editing
Processor: Quad-core processor with 2.8 GHz or better
RAM: 8 GB
Graphics card: NVIDIA Geforce GTX 1060 4GB VRAM
Available hard drive space: 2 GB for program installation
Optical drive: CD or DVD drive
Internet connection: Required for registering and validating the program, as well as for some program features. The program requires a one-time registration.
Supported import formats
Image: BMP, GIF, JPEG, TGA, TIF, PNG, HEIF
Audio: WAV, MP3, OGG, WMA, Surround-Sound/5.1 (downmix to stereo)
Video: (DV-)AVI, MJPEG, MKV, MPEG-½/4 (HEVC/H.265*), MOV, WMV(HD)
Supported export formats
Image: JPEG, BMP
Disc: DVD, Blu-ray Disc, AVCHD disc
Audio: WAV, MP3**
Video: (DV-)AVI, MJPEG, MPEG-½/4 (HEVC/H.265*), WMV(HD)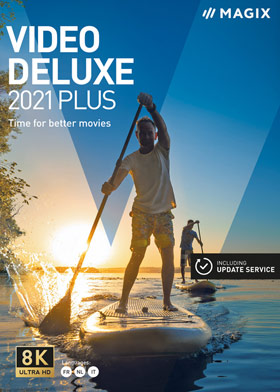 Language:

English

Genre:

Platform:

Win 8 64 bits Win 10 64 bits

Release date:

24/08/2020

Publisher