Director Suite 365 - 1 year
Director Suite 365 - 1 year
Benefits of 365 Subscription
Flexible Plans: Choose cost effective and flexible annual and monthly plans.
New Design Packs Updated Monthly: Get unlimited use of all creative design packs.
Always Up-to-Date: Be the first to get all new video & photo editing features exclusives.
New Music & Sound FX Tracks Monthly: Get 100+ background music tracks and 300+ sound effect clips
About the Software
The best all-in-one editing suite for content creators with eye-catching effects and powerful editing tools for video, photo, audio, and color grading.
Complete Editing Studio
Director Suite 365 is the complete workstation for video and photo editing with four professional-grade applications:
PowerDirector – Video Editing For All Creators.
PhotoDirector – Reimagine Your Photos.
ColorDirector – Precision Color Grading.
AudioDirector – The Ulitmate Audio Editor.
Key features
Access to World Leading Stock Media Catalogs EXPANDED
Expand your creative horizons with unlimited access to Shutterstock and Getty Images design catalogs.
AI Object Detection NEW
Effortlessly apply masks to add or remove objects from images.
AI Wind Removal NEW
Remove gusts of wind for crisp, clear, distraction-free audio.
Green Screen Editing
Create Hollywood-style visual effects with an improved chroma key engine and multi-key color sampling.
Customizable Titles ENHANCED
Create unique titles with animated templates.
Photo Animation NEW
Generate natural-looking motion and bring your still images to life with the Photo Animation Effect.
Object Segmentation NEW
Precisely mask the outline of people / objects in your images. Achieve flawless silhouettes or remove objects completely.
Glitch Art NEW
Discover hidden beauty in your images by splitting and combining color layers.
Advanced Color Replacement
Completely change the color of specific objects in a picture for a whole new look. Select multiple areas at once for consistent adjustment.
Content-aware Editing
Remove, duplicate, or move objects or people within photos simply by brushing over them. PhotoDirector instantly fills spaces using an intelligent algorithm that blends perfectly with the surrounding background.
Incredible Multi-exposure Shots
Easily extract a series of photos from a video clip and turn them into incredibly creative multi-exposure images with just a single click.
One-click Photo Presets & Lens Correction
Use One-click Photo Presets to create impressive photos with HDR, black & white and split tone as well specifically designed presets for portraits & landscapes. Intelligently fix image perspective to make objects appear flat on the horizon with One-Click Keystone Correction.
Make Your Production Shine NEW
Sparkle Effect automatically detects a light source in your footage and enhances it with individual, fully customizable and animated sparks of light.
Green Screen Maker
Compose spectacular scenes by isolating any object in your video and creating a customizable green screen.
Bokeh Effect NEW
Create soft and smooth blurs to add dramatic contrast and create stunning works of art with unmatched precision.
AI DeReverb NEW
Remove reverb and echo from audio clips intelligently so dialogue can be clearly heard.
Unlimited Access to Music Libraries NEW
Access high-quality, royalty-free music libraries powered by Shutterstock.
Seamlessy Integrated with PowerDirector NEW
Export your entire audio project from AudioDirector directly into PowerDirector and vice versa. Your audio and video project edits synchronize perfectly between the two apps.
Create Effect Combos NEW
Combine and apply multiple effects at the same time. Add and preview alternate clips side by side to get the perfect sound.
Punch & Roll Recording
Quickly record lengthy voiceovers or podcasts, and seamlessly make corrections to your dialogue tracks.
Spatial Audio Panner
Create an ambisonic, 360º audio soundtrack for a truly immersive experience.
Precision Audio Controls
- Auto-Fit Background Music – Automatically adjust backing music tracks to fit the length of your video
- Pitch Bender – Set keyframe points and accurate transform the pitch of audio tracks to give your recordings the perfect effect
- Stereo Expander – Use new Stereo Expander to virtually give tracks a wider and fuller stereo presence
Access to World Leading Stock Media Catalogs EXPANDED
Expand your creative horizons with unlimited access to Shutterstock and Getty Images design catalogs.
AI Sky Replacement NEW
Enhance or totally replace the sky for perfect scenic shots.
AI Speech Enhancement NEW
Reduce unwanted background noise for refined, high-quality vocal tracks.
Mask & Blend ENHANCED
Layer and blend to create artistic scenes. Draw your own mask or select from a range of mask templates.
AI Powered Sky Replacement NEW
Transform the sky in your images with AI. Position, blend, and animate. The sky is the limit.
Light Rays, Bokeh and Light Hits NEW
Create dreamy images with Bokeh, add natural glows, sparkles and intense bursts of light. Edit everything from size, color, and direction to truly shape your scene with wonderfully rich light.
Dispersion Effect NEW
Distort, rearrange, or disintegrate every particle of your image.
Layer Editing History NEW
Create without fear of mistakes. Quickly switch between any layer edit you've ever made to find the perfect look.
Express Layer Templates
Express Layer Templates contain all the layer components that make up complex images. They're not only an easy way to put together stunning images, but also help to show how layers combine to produce photographic effects.
More Creativity Powered by AI
We've trained our AI Style Engine to analyze images in detail and identify different aspects of each shot. It then intelligently applies brushstrokes that make your shots look like they were designed and painted by a master artist.
Vibrant Motion Stills™
Motion Stills are an amazingly creative twist on standard photographs. Brush over sections of a video clip to retain movement in that area only. Other parts appear frozen in time!
Sharper Images, Better Clarity
Remove haze, fog, and smog to reveal crisp landscape views. Defringe your images to get rid of distracting color fringes, for a sharper look.
Parade Mode NEW
Quickly inspect the color balance of your shots with the red, green, and blue color channels.
Glitch Effect NEW
Create otherworldly images by separating, splicing and rearranging up to three copies of an object within your video.
Grain Effect NEW
Add a weathered, textured look to your footage and tap into the emotions of a bygone era with film grain effects.
AI Speech Enhancement NEW
Remove or enhance speech in your recordings with world-class AI algorithms.
Smart Fit for background Tracks NEW
Automatically fit your background music to the length of your video clips.
Vocal Balance and Removal NEW
Want to use a music track without the distracting vocals? Extract pristine instrumentals from your favorite songs.
AI Wind-Removal NEW
Remove reverb and echo from audio clips intelligently so dialogue can be clearly heard.
Batch Processing
Apply your favorite effects to multiple audio files simultaneously saving hours of tedious editing time and repetition.
Ambience & Surround Sound Creator
Create sophisticated surround sound projects using dynamic panning technology and instantly generate ambient noise for soundless clips so that they blend seamlessly with neighboring footage.
Restoration Adjustment Tools
Remove any unwanted noise with our collection of audio adjustment tools:
- Plosive Removal - Remove distracting breathy sounds in speech
- Noise Reduction - Clears unwanted static and background noise
- Declip - Removes distortion caused by clipping
- Declick - Clears track of clicks, pops and crackles
- Hiss Removal - Eliminates hissing sounds from audio tracks
- Hum Removal - Gets rid of low frequency audio artifacts
system requirements
Windows - Minimum
Operating System: Microsoft Windows 11, 10, 8/8.1, 7 (64 bit OS only)
Processor (CPU): Intel Core™ i-series or AMD Phenom® II and above
Graphics Processor (GPU): Standard Video: 128 MB VGA VRAM or higher, 360-video: DirectX 11 compatible, AI Plugin: 2GB VGA VRAM or higher
Memory: 4GB required (For AI style transfer, 8 GB or above recommended)
Hard Disk Space: 10GB
Burning Drive: Burning drive is required for disc burning purpose
Sound Card: Windows compatible sound card is required
Internet Connection: Internet connection also required for initial software & file formats activation.
Screen Resolution: 1024 x 768, 16-bit color or above
Required configuration
Windows - Minimum
Operating System: Microsoft Windows 11, 10, 8/8.1, 7 (64 bit OS only)
Processor (CPU): Intel Core™ i-series or AMD Phenom® II and above
Graphics Processor (GPU): Standard Video: 128 MB VGA VRAM or higher, 360-video: DirectX 11 compatible, AI Plugin: 2GB VGA VRAM or higher
Memory: 4GB required (For AI style transfer, 8 GB or above recommended)
Hard Disk Space: 10GB
Burning Drive: Burning drive is required for disc burning purpose
Sound Card: Windows compatible sound card is required
Internet Connection: Internet connection also required for initial software & file formats activation.
Screen Resolution: 1024 x 768, 16-bit color or above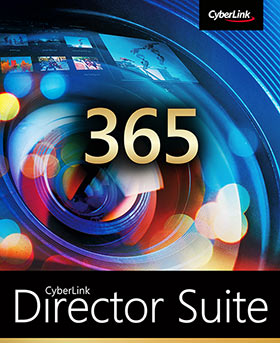 Language:

English

Genre:

Platform:

Win 11 64 bits Win 7 64 bits Win 8 64 bits Win 8.1 64 bits Win 10 64 bits

Release date:

16/09/2021

Publisher