CyberLink PowerDirector 20 Ultra
CyberLink PowerDirector 20 Ultra
About the Software
Tell your story the way you imagined with intuitive editing tools that will help you create professional level edits effortlessly.
Key features
Green Screen Editing
Create Hollywood-style visual effects with an improved chroma key engine and multi-key color sampling.
Motion Tracking
Track objects with 100% accuracy in your clips with frame-by-frame motion tracking for shapes and titles.
Video Collage Designer
Create fully customizable collages with effects, including animated intros and outros.
Mask Designer
Combine images from different tracks with title or image masks.
Color Match NEW
Replicate the color style from any reference video. Use enhanced color match controls to fine-tune your look.
Transitions
Choose from a variety of styles to seamlessly connect your shots.
Express Projects
Pick from a vast collection of ready-made templates that consist of effects, titles, and transitions.
Title Designer
Create your own intro / outros sequences with fully customizable text and effects that add dynamic titles to your videos.
25GB Cloud Storage
Store and backup your system files online. PowerDirector comes with a huge 25GB CyberLink Cloud storage absolutely free!
Action Camera Center
Easily correct lens distortion, stabilize your footage, and join clips.
Correct Fish-Eye Distortions
Create Stop-Motion Effects
Add Pan & Zoom Effects to Video
Stabilize Shake Footage
Zoom, Freeze & Reverse
Apply Slow Motion to Clips
Correct Color Distortion
system requirements
Windows - Minimum
Operating System: Microsoft Windows 11, 10, 8/8.1, 7 (64 bit OS only), *Windows 10 or above is required for AI tools and features
Processor (CPU): Intel Core™ i-series and above, Haswell (4th generation) processor: Core i7-4770 (only Core and Xeon branded), and above required for AI features. AMD Phenom® II and above, AMD A8-7670K and above, AMD Ryzen™ 3 1200 and above required for AI features.
Graphics Processor (GPU): Standard Video: 128 MB VGA VRAM or higher , 360-video: DirectX 11 compatible, AI Plugin: 2GB VGA VRAM or higher
Memory: 4GB required (6GB or above recommended)
Hard Disk Space: 7GB required
Burning Drive: Burning drive is required for disc burning purpose
Sound Card: Windows compatible sound card is required
Internet Connection: Internet connection also required for initial software & file formats activation.
Screen Resolution: 1024 x 768, 16-bit color or above
Supported formats
Video (import) Standard video formats: H.265 / HEVC, MOD, MVC (MTS), MOV (H.264 / alpha PNG), MPEG-1, MPEG-2, MPEG -4AVC (H.264), FLV (H.264), MP4 (XAVC S), MKV, TOD, 3GPP2, VOB, AVCHD (M2T, MTS), DVR-MS, top-under video, side-by-side Video, Dual-Stream AVI, WTV in H.264 / MPEG2, DV-AVI, DSLR video clip in H.264 with LPCM / ACC 5.1 / Dolby Digital Stereo *, VRO, AVI, WMV, DAT, WMV-HD, WebM ( VP9)
Video (import) 360 ° video: Equirectangular format MP4 (H.264 / 265). Supports a resolution of up to 4K with an aspect ratio of 2: 1.
Video (export) Standard video formats: AVCHD, AVCHD 2.0 (3D / Progressive) MPEG-2 HD, WMV-HD, 2K / 4K resolution: H.264 AVC, WMV, H. 265 HEVC, XAVC S, MKV H.264 AVC / H.265 HEVC (.MKV with LPMC / AAC / DTS 5.1 / Dolby Digital Audio *), MPEG-2, MPEG-4 H.264 / H.265 HEVC (. MP4 with LPCM / AAC 5.1 / Dolby Digital Stereo *), WMV, DV-AVI, Windows AVI (.AVI), AVCHD2.0 for SD / SDHC / SDXC / MS memory, 3D video: MVC, side-by-side, Anaglyph, image sequence (JPG / PNG)
Video (export) 360 ° video: Equirectangular format MP4 (H.264 / H.265)
Disc export: DVD, AVCHD, BD, BDMV
Audio (import): AAC, ALAC, Dolby Digital *, Dolby Digital Plus *, DTS, WAVE, MPEG-1 Layer III, FLAC, ALAC, Opus, AMR-NB, LPCM, MPEG Audio
Audio (export): MP3, AAC (.M4A), WMA, LPCM (.WAV) * Windows 8 / 8.1 / 10/11 required.
Photo (import): JPS, MPO, RAW, GIF, BMP, JPG, TIF, PNG, Animated GIF, HEIC, 360 ° photo: Equirectangular format JPG / TIF with aspect ratio 2: 1
Required configuration
Windows - Minimum
Operating System: Microsoft Windows 11, 10, 8/8.1, 7 (64 bit OS only), *Windows 10 or above is required for AI tools and features
Processor (CPU): Intel Core™ i-series and above, Haswell (4th generation) processor: Core i7-4770 (only Core and Xeon branded), and above required for AI features. AMD Phenom® II and above, AMD A8-7670K and above, AMD Ryzen™ 3 1200 and above required for AI features.
Graphics Processor (GPU): Standard Video: 128 MB VGA VRAM or higher , 360-video: DirectX 11 compatible, AI Plugin: 2GB VGA VRAM or higher
Memory: 4GB required (6GB or above recommended)
Hard Disk Space: 7GB required
Burning Drive: Burning drive is required for disc burning purpose
Sound Card: Windows compatible sound card is required
Internet Connection: Internet connection also required for initial software & file formats activation.
Screen Resolution: 1024 x 768, 16-bit color or above
Supported formats
Video (import) Standard video formats: H.265 / HEVC, MOD, MVC (MTS), MOV (H.264 / alpha PNG), MPEG-1, MPEG-2, MPEG -4AVC (H.264), FLV (H.264), MP4 (XAVC S), MKV, TOD, 3GPP2, VOB, AVCHD (M2T, MTS), DVR-MS, top-under video, side-by-side Video, Dual-Stream AVI, WTV in H.264 / MPEG2, DV-AVI, DSLR video clip in H.264 with LPCM / ACC 5.1 / Dolby Digital Stereo *, VRO, AVI, WMV, DAT, WMV-HD, WebM ( VP9)
Video (import) 360 ° video: Equirectangular format MP4 (H.264 / 265). Supports a resolution of up to 4K with an aspect ratio of 2: 1.
Video (export) Standard video formats: AVCHD, AVCHD 2.0 (3D / Progressive) MPEG-2 HD, WMV-HD, 2K / 4K resolution: H.264 AVC, WMV, H. 265 HEVC, XAVC S, MKV H.264 AVC / H.265 HEVC (.MKV with LPMC / AAC / DTS 5.1 / Dolby Digital Audio *), MPEG-2, MPEG-4 H.264 / H.265 HEVC (. MP4 with LPCM / AAC 5.1 / Dolby Digital Stereo *), WMV, DV-AVI, Windows AVI (.AVI), AVCHD2.0 for SD / SDHC / SDXC / MS memory, 3D video: MVC, side-by-side, Anaglyph, image sequence (JPG / PNG)
Video (export) 360 ° video: Equirectangular format MP4 (H.264 / H.265)
Disc export: DVD, AVCHD, BD, BDMV
Audio (import): AAC, ALAC, Dolby Digital *, Dolby Digital Plus *, DTS, WAVE, MPEG-1 Layer III, FLAC, ALAC, Opus, AMR-NB, LPCM, MPEG Audio
Audio (export): MP3, AAC (.M4A), WMA, LPCM (.WAV) * Windows 8 / 8.1 / 10/11 required.
Photo (import): JPS, MPO, RAW, GIF, BMP, JPG, TIF, PNG, Animated GIF, HEIC, 360 ° photo: Equirectangular format JPG / TIF with aspect ratio 2: 1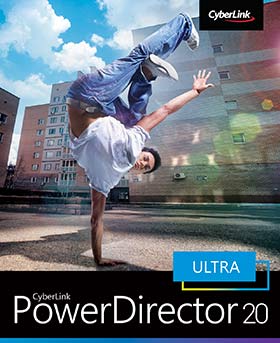 Language:

English

Genre:

Platform:

Win 11 64 bits Win 7 64 bits Win 8 64 bits Win 8.1 64 bits Win 10 64 bits

Release date:

21/09/2021

Publisher