PaintShop Pro 2020
About the Software
See the world through a new lens
Experience an all-in-one photo editor and graphic design software that will change the way you edit photos.
Key features
USER INSPIRED FEATURES
PaintShop Pro continues to be inspired by its users whose feedback is the driving force behind every innovation.
Powerful adjustment tools
Edit, crop, resize, remove noise, sharpen, enhance colors, use curves and levels and correct photos taken with a 360-degree camera by rotating or making them level or producing 'planet-like' effects.
Precise retouching
Touch up your photos with high precision selection or cloning tools, photo restoration, makeover tools and flaw removal effects. Fix lens issues, distortions and chromatic aberrations with intuitive functions.
Artistic photo compositions
Use multiple layers and masks to create incredible photos and graphic design projects. Add your special touch with painting and drawing tools and creative content like patterns, gradients and colour palettes.
Complete RAW & HDR control
PaintShop Pro's RAW lab arms you with powerful RAW image editing capabilities, including before and after preview options. Create stunning HDR photos by combining multiple exposures.
Save time
Work faster with batch processing and scripts and support for nearly any file format you want.
CREATIVE DESIGN POWER
Access a wide range of built-in templates to create collages, greeting cards, social media images, web banners, brochures and so much more. Play with photo stamps, Bokeh or Retro tools and a variety of fun filters and effects to effortlessly transform your photos.
SAVE, ORGANIZE AND SHARE
PaintShop Pro values not just your creativity, but also the practical aspects of saving, transferring, organizing and sharing your assets.
Experience less disruptions with autosaving.
Organize and manage your projects. Easily export to Photoshop, Painter or CorelDRAW and continue working.
Save your work in multiple formats and upload and share with family and friends.
NEW SmartClone
Clone technology at its finest. The all-new, content-aware SmartClone feature allows you to easily merge elements from multiple images and seamlessly integrate them into one. SmartClone capabilities are diverse and can be used for simple retouches to interesting designs and compositions.
New Photography Workspace
Touch-ready, highly simplified workspace that allows you to focus exclusively on quick photo edits for wow-factor results.
NEW Refine Brush
The Selection tool just got so much stronger. A Refine Brush has been added to your Selection toolset to enable you to select an object with extreme precision and accuracy, down to a single strand of hair. You'll have to see it to believe it.
PROFESSIONAL PHOTO EDITING
Crop & correct
Crop photos for stronger compositions using Grid, Diagonal, Golden Ratio and Golden Spiral composition guides. Straighten, correct perspectives and depth of field to create the perfect, polished photo.
Selection tools
Make your choices with precision using intelligent tools that make it fast and easy to adjust or retouch areas of your photos, clone and refine selections with extreme accuracy.
Scripts
Speed up common and repetitive tasks by scripting almost any action with the full-featured scripting engine and scripting guide (7 MB .exe).
360° camera support
Edit photographs taken with a 360° degree camera. Straighten a 360° photo with rotation or make it appear leveled. Remove and automatically replace the tripod in the image with PaintShop Pro's Magic Fill, or produce an interesting 'planet-like' effect.
RAW photo editing
Enjoy complete control over your RAW images with PaintShop Pro's Camera RAW Lab, including before and after views, and helpful preview option.
HDR tools
Combine multiple exposures of the same scene to create a single, stunning, HDR photo with intense visual contrast.
system requirements
Windows - Minimum
OS: Windows 10, Windows 8/8.1, Windows 7 with the latest service pack (64-bit or 32-bit editions)
- For virtualization: Microsoft Windows Server 2012 R2, Windows Server 2016 or later
- For Pic-to-Painting: Windows 10 (64-bit or 32-bit editions)
Processor: Intel Core i-series or AMD Phenom II and above (Intel SandyBridge or AMD Fusion and above recommended)
RAM: 4 GB of RAM (8 GB recommended for 360° photo, SmartClone, and Pic-to-Painting plugin support)
HDD: 1.5 GB of available hard-disk space required (3 GB recommended for Pic-to-Painting plugin support)
1366x 768 resolution with 16-bit color display (1920x1080 resolution with 24-bit or higher color display recommended). Up to 250 DPI supported with appropriate resolution display
Graphics card: DirectX 9 or higher compatible video adapter with the latest driver
Internet Explorer version 10 or higher
Internet connection required for online features and tutorial videos
Copyright © 2020 Corel Corporation. All rights reserved.
Required configuration
Windows - Minimum
OS: Windows 10, Windows 8/8.1, Windows 7 with the latest service pack (64-bit or 32-bit editions)
- For virtualization: Microsoft Windows Server 2012 R2, Windows Server 2016 or later
- For Pic-to-Painting: Windows 10 (64-bit or 32-bit editions)
Processor: Intel Core i-series or AMD Phenom II and above (Intel SandyBridge or AMD Fusion and above recommended)
RAM: 4 GB of RAM (8 GB recommended for 360° photo, SmartClone, and Pic-to-Painting plugin support)
HDD: 1.5 GB of available hard-disk space required (3 GB recommended for Pic-to-Painting plugin support)
1366x 768 resolution with 16-bit color display (1920x1080 resolution with 24-bit or higher color display recommended). Up to 250 DPI supported with appropriate resolution display
Graphics card: DirectX 9 or higher compatible video adapter with the latest driver
Internet Explorer version 10 or higher
Internet connection required for online features and tutorial videos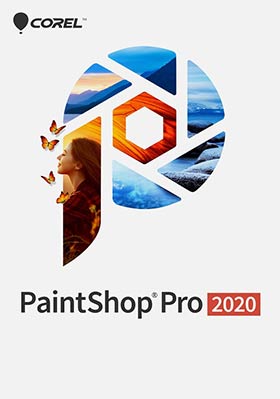 Language:

English

Genre:

Platform:

Win 7 32/64 bits Win 8 32/64 bits Win 8.1 32/64 bits Win 10 32/64 bits

Release date:

08/08/2019

Publisher