CyberLink PhotoDirector 13 Ultra /WIN
CyberLink PhotoDirector 13 Ultra /WIN
About the Software
Create breathtaking compositions and artistic masterpieces with powerful AI tools, eye-catching visual effects, advanced color controls, and intuitive layer editing.
Key features
AI Powered Sky Replacement NEW
Transform the sky in your images with AI. Position, blend, and animate. The sky is the limit.
Light Rays, Bokeh and Light Hits NEW
Create dreamy images with Bokeh, add natural glows, sparkles and intense bursts of light. Edit everything from size, color, and direction to truly shape your scene with wonderfully rich light.
Dispersion Effect NEW
Distort, rearrange, or disintegrate every particle of your image.
Layer Editing History NEW
Create without fear of mistakes. Quickly switch between any layer edit you've ever made to find the perfect look.
Frame, LUTs, & Clip Art Packs
Give your images the perfect finishing touch with professionally designed frames & stickers in a range of styles.
Content-aware Editing
Remove, duplicate, or move objects or people within photos simply by brushing over them. PhotoDirector instantly fills spaces using an intelligent algorithm that blends perfectly with the surrounding background.
Incredible Multi-exposure Shots
Easily extract a series of photos from a video clip and turn them into incredibly creative multi-exposure images with just a single click.
One-click Photo Presets & Lens Correction
Use One-click Photo Presets to create impressive photos with HDR, black & white and split tone as well specifically designed presets for portraits & landscapes. Intelligently fix image perspective to make objects appear flat on the horizon with One-Click Keystone Correction.
Total 360º Photo Editing
PhotoDirector makes it easy to create spectacular images with photos taken using 360º cameras. It's a whole new perspective.
Photo Animation NEW
Generate natural-looking motion and bring your still images to life with the Photo Animation Effect.
Object Segmentation NEW
Precisely mask the outline of people / objects in your images. Achieve flawless silhouettes or remove objects completely.
Glitch Art NEW
Discover hidden beauty in your images by splitting and combining color layers.
Advanced Color Replacement
Completely change the color of specific objects in a picture for a whole new look. Select multiple areas at once for consistent adjustment.
Express Layer Templates
Express Layer Templates contain all the layer components that make up complex images. They're not only an easy way to put together stunning images, but also help to show how layers combine to produce photographic effects.
More Creativity Powered by AI
We've trained our AI Style Engine to analyze images in detail and identify different aspects of each shot. It then intelligently applies brushstrokes that make your shots look like they were designed and painted by a master artist.
Vibrant Motion Stills™
Motion Stills are an amazingly creative twist on standard photographs. Brush over sections of a video clip to retain movement in that area only. Other parts appear frozen in time!
Sharper Images, Better Clarity
Remove haze, fog, and smog to reveal crisp landscape views. Defringe your images to get rid of distracting color fringes, for a sharper look.
system requirements
Windows - Minimum
Operating System: Microsoft Windows 11, 10, 8/8.1, 7 (64 bit OS required)
Processor (CPU): Intel Core™ i-series or AMD Phenom® II and above
Graphics Processor (GPU): 128 MB VGA VRAM or higher
Memory: 4GB required (For AI style transfer, 8GB or above recommended)
Hard Disk Space: 2GB
Internet Connection: Internet connection also required for initial software & file formats activation.
Screen Resolution: 1024 x 768, 16-bit color or above
Format Support
Photo (Import): JPG, TIFF, RAW, PNG, PHI, BMP, HEIF, GIF. PhotoDirector also supports the import of most camera RAW formats.
Photo (Export): JPG, TIFF, PNG, GIF, PHI (Ultra only)
Video (Import): AVI, MOD, DAT, TOD, VOB, TPD, VRO, TRP, FLV, M4V, MP4, M2V, MPG, MOV, MPEG, 3GP, MPE, 3G2, M2T, 3GPP, M2TS, MKV, MTS, WMV, TS, ASF
Video (Export): MPEG4, WMV
Required configuration
Windows - Minimum
Operating System: Microsoft Windows 11, 10, 8/8.1, 7 (64 bit OS required)
Processor (CPU): Intel Core™ i-series or AMD Phenom® II and above
Graphics Processor (GPU): 128 MB VGA VRAM or higher
Memory: 4GB required (For AI style transfer, 8GB or above recommended)
Hard Disk Space: 2GB
Internet Connection: Internet connection also required for initial software & file formats activation.
Screen Resolution: 1024 x 768, 16-bit color or above
Format Support
Photo (Import): JPG, TIFF, RAW, PNG, PHI, BMP, HEIF, GIF. PhotoDirector also supports the import of most camera RAW formats.
Photo (Export): JPG, TIFF, PNG, GIF, PHI (Ultra only)
Video (Import): AVI, MOD, DAT, TOD, VOB, TPD, VRO, TRP, FLV, M4V, MP4, M2V, MPG, MOV, MPEG, 3GP, MPE, 3G2, M2T, 3GPP, M2TS, MKV, MTS, WMV, TS, ASF
Video (Export): MPEG4, WMV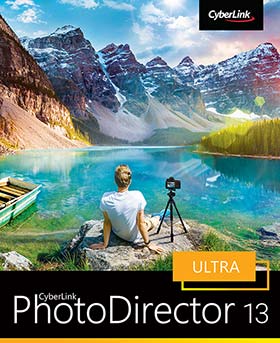 Language:

English

Genre:

Platform:

Win 11 64 bits Win 7 64 bits Win 8 64 bits Win 8.1 64 bits Win 10 64 bits

Release date:

16/09/2021

Publisher