Creative Cloud Photography plan with 1TB - 1 Year
Creative Cloud Photography plan with 1TB - 1 Year
This item is currently unavailable in your country.
NOTICE: Product not eligible for a refund.
About the software
The Adobe Creative Cloud Photography plan includes the Lightroom CC photo service so you can easily edit, organize, store, and share your photos from anywhere, and Photoshop CC so you can transform your images into anything you can imagine.
Includes:
Lightroom CC
Lightroom Classic CC
Photoshop CC
1 TB of cloud storage
Key Features
Easily edit your photos anywhere with Lightroom CC.
Create incredible photos on your mobile devices, the web, and your desktop with powerful editing features in an easy-to-use interface. Your photos and edits are backed up to the cloud, and organization and search are a snap. Plus, you can share and showcase your favorite photos in fun ways.
Transform your images with Photoshop CC.
Bring your creative visions to life with precision editing and compositing tools. Combine multiple images into rich, multilayered artwork. Turn photos into paintings or 3D objects. Move things around in your photos, or remove unwanted content. And play with color and effects to turn ordinary photos into something extraordinary.
Apps included in the Creative Cloud Photography plan
Lightroom CC - Edit, organize, store, and share photos from anywhere
Lightroom Classic CC - Desktop-focused photo editing
Portfolio - Create beautiful portfolio websites on desktop and mobile
Photoshop CC - Image editing and compositing
Adobe Spark with premium features - Create customized graphics, web pages, and video stories in minutes
System Requirements
Minimum
Supported OS: Mac OS X (All), Windows 10, Windows 8.1, Windows 8, Windows 7
Processor Format: 64 bit
RAM: 4 GB of RAM (8GB recommended)
Hard Disk: 10 GB
Additional Requirements: OpenGL 3.3 and DirectX 10-capable video adapter for GPU-related functionality
Required configuration
Minimum
Supported OS: Mac OS X (All), Windows 10, Windows 8.1, Windows 8, Windows 7
Processor Format: 64 bit
RAM: 4 GB of RAM (8GB recommended)
Hard Disk: 10 GB
Additional Requirements: OpenGL 3.3 and DirectX 10-capable video adapter for GPU-related functionality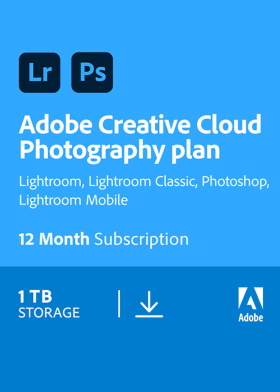 Language:

English

Genre:

Platform:

Win 7 64 bits Win 8 64 bits Win 10 64 bits

Mac OS X

Release date:

18/10/2017

Publisher