Intego ContentBarrier X9 1- PC
Intego ContentBarrier X9 1- PC
ABOUT THE SOFTWARE
---
Intego ContentBarrier X9
is our parental controls solution for Mac that allows you to create appropriate online boundaries for any child from toddler to teen. It helps parents manage Internet access for their children by setting up customizable profiles, monitoring online activity, and restricting them from accessing inappropriate content. Intego ContentBarrier X9 gives kids freedom to enjoy their favorite areas of the Internet while keeping them protected and safe from online threats.
Do You Know Where Your Kids Are Going Online?
As a parent, you want to give your children enough freedom to explore the online world while making sure they're safe. The Internet can be a great resource for kids, but it's also full of inappropriate content and strangers. With so many dangerous back alleys just a click away, the idea of letting your child go online unsupervised can feel overwhelming and scary.
Do You Know Who Your Kids Are Chatting With Online?
Intego ContentBarrier X9 includes anti-predator chat monitoring technology for all standard chat protocols, and ensures your children are not having an inappropriate conversation with a stranger. It watches for objectionable chat content and blocks inappropriate chats, and if desired, you can opt to receive email alerts whenever objectionable content is detected.
Family Protector Provides Both Freedom and Safety
Intego Family Protector acts as your children's digital guardian whenever they go online. It's easy to set up customizable profiles that monitor Internet habits and restrict adult content. Your kids are given a world that's safe and age-appropriate and you're given peace of mind in knowing that they're protected from hidden online dangers.
KEY FEATURES
---
Provides a Safe Surfing Environment for Family Members
Use Intego ContentBarrier X9 to block out objectionable categories of Internet sites. You can also set up a specific list of websites that get parental approval so your kids can access them without accidentally running into a filter.
Creates Different Setting Configurations Per Account
Assign different profiles for your teenage son and your younger daughter and configure each one differently. That way your son can get online to do homework while your five-year old can print a coloring sheet.
Sets Up Network Time of Day Access Restrictions
Restrict the time of day your children can access the network. Need to open up computer time so your kids can do their homework or shut off access because it's time for dinner? Settings can be easily reconfigured so you can adjust accordingly.
Includes a Web Admin Console Access
If you're not at home but your child needs to access a website for a school assignment, you can enable the site via a web browser so your son or daughter can successfully get online without you rushing home.
Records Screenshots and Keystrokes
Configure Intego ContentBarrier X9 to record keystrokes or take screenshots of active applications to make sure your kids haven't stumbled across content they shouldn't be looking at.
Monitors and Filters Chat Sessions
Intego ContentBarrier X9 monitors Internet chat sessions to make sure your child isn't having an inappropriate conversation with a stranger. If any objectionable terminology is used, the chat session can be shut down and you'll be notified.
SYSTEM REQUIREMENTS
---
Mac® computer with Intel® Core 2 Duo processor
Mac OS X 10.8 or higher
1.5 GB of available hard disk space
Secure Internet (https) connection required for License Authentication, Online Manual, and NetUpdate security updates
ContentBarrier X9 is available in:
English, French, German, Spanish, Japanese
---
© 2016 Intego – Intego, the Intego logo, ContentBarrier X9, and the ContentBarrier X9 logo are trademarks of Intego. Apple, Mac, Macintosh and the Mac logo are trademarks of Apple Computer, registered in the United States and countries. All other trademarks and product names are trademarks of their respective holders. Non-contractual document with reservation for typographical or photographic errors. Photo Intego.
Required configuration
Mac® computer with Intel® Core 2 Duo processor
Mac OS X 10.8 or higher
1.5 GB of available hard disk space
Secure Internet (https) connection required for License Authentication, Online Manual, and NetUpdate security updates
ContentBarrier X9 is available in:
English, French, German, Spanish, Japanese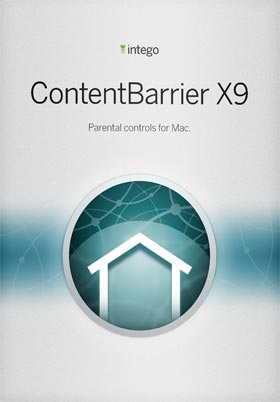 Language:

English

Genre:

Platform:

Release date:

27/06/2016

Publisher