ABBYY FineReader PDF for Mac
ABBYY FineReader PDF for Mac
About the Software
ABBYY® FineReader® PDF for Mac® is a high-quality, modern OCR application for macOS®. It converts PDFs, paper documents, or their images into searchable and editable documents. FineReader PDF combines advanced document conversion tools and ABBYY's latest, superior-quality OCR technology with an easy-to-use interface, a built-in PDF Viewer, and quick conversion scenarios. It supports the latest macOS® features such as Dark Mode and Continuity Camera.
With FineReader PDF, information workers can easily and effectively incorporate PDFs, paper documents, and their images into digital workspaces.
Digitize image-based PDFs, paper documents, and scans with OCR
Convert your documents into editable files in Microsoft® Word®, Excel®, ODT, RTF, and other common formats. ABBYY's AI-based OCR and document conversion technologies ensure excellent accuracy and precise layout retention for further effortless editing.
Easily turn paper documents, scans, and scanned PDFs into searchable PDFs with ABBYY's latest AI-based OCR technology, which supports over 190 languages.
Prepare documents for digital archiving by converting them into searchable PDF and PDF/A formats. Apply compression to reduce file size and save storage space.
Ensure accessibility by digitizing your documents into ISO-specification compliant PDF/UA.
Protect documents digitized into PDFs: Manage access with password protection.
Quick conversion scenarios allow you to get a task done in a few clicks.
The Advanced conversion feature provides versatile tools and settings for enhanced control and flexibility while converting. Draw and adjust recognition areas, change their type and properties, adjust detected structure of tables, and set recognition languages or their combinations. Add, delete, and rearrange pages in the project. Set export parameters.
Automatic image preprocessing tools improve accuracy and converted document quality for low-quality document images.
Reuse and edit content of PDFs and paper documents
Covert any type of PDF (even scanned), paper documents, or their images to editable formats for further editing, updating, or reusing information.
Copy parts of the document content directly from FineReader PDF to paste them elsewhere.
Make any PDF specification-compliant
Make any PDF specification-compliant by converting it into industry-standard PDF/A (1a, 1b, 2a, 2b, 2u, 3a, 3b, 3u) or accessible PDF/UA.
Reduce the size of created PDFs by applying MRC compression technology, add tags to, and embed fonts in created PDFs.
Capture document images
Capture documents with a scanner, or open and add stored images to a conversion project.
Capture documents with iPhone® or iPad® directly to FineReader PDF with Continuity Camera, or transfer images taken earlier to convert them.
View PDF documents
View and read PDF documents with built-in PDF Viewer.
Print PDF documents
System Requirements
Mac - Minimum
macOS® 10.15 Catalina and later
A Mac® computer with an Intel® processor
Hard disk space: 3 GB available hard disk space for typical program installation
4 Gb RAM
Keyboard, mouse or another pointing device
A scanner or an MFP that supports Image Capture application (ICA), camera or smartphone
© 2021 ABBYY Production LLC. ABBYY, FineReader and ABBYY FineReader are registered trademarks or trademarks of ABBYY Software Ltd., logo(s) or product name(s) of ABBYY group, and they cannot be used without prior written consent of their respective owners. All other trademarks are the sole property of their respective owners. Mac, MacOS, iPhone, iPad, Microsoft, Word, Excel are either registered trademark, trademark or product name of their respective owners and cannot be used without their prior written consent.
Required configuration
Mac - Minimum
macOS® 10.15 Catalina and later
A Mac® computer with an Intel® processor
Hard disk space: 3 GB available hard disk space for typical program installation
4 Gb RAM
Keyboard, mouse or another pointing device
A scanner or an MFP that supports Image Capture application (ICA), camera or smartphone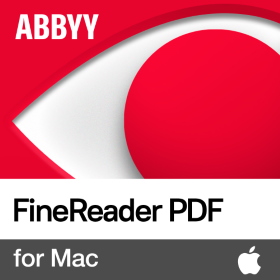 Language:

English

Genre:

Platform:

Release date:

31/03/2021

Publisher