ABBYY FineReader PDF 15 Corporate Upgrade
ABBYY FineReader PDF 15 Corporate Upgrade
Upgrade eligibility: Registered users of FineReader 14 Standard, Corporate or Enterprise, FineReader 12 Professional or Corporate, FineReader Sprint 12 and PDF Transformer+ are eligible to purchase at an Upgrade price. Please make sure that you have a valid serial number of the product eligible for upgrade, you will be asked to provide it during installation.
About the Software
NEW The features added in the most recent release: Interactive PDF forms creation, Gothic (Fracture) OCR.
ABBYY® FineReader® PDF 15 is a PDF solution powered by OCR which brings individual document productivity to business professionals from different departments and industries. ABBYY's cutting-edge conversion capabilities make paper documents and PDFs accessible and searchable and facilitates FineReader's comprehensive PDF tools like editing and commenting. Office workers can edit and comment on PDF documents, compare them, and covert them manually or automatically.
Key Features
Edit, protect, and collaborate on PDFs
Edit paragraphs, table cells, and the layout of any type of PDF (even scanned) without additional conversion steps – OCR is applied automatically when necessary
Collaborate on documents with commenting and annotation tools and collect approvals.
Protect documents and information by redacting sensitive information, removing metadata, or adding password restrictions and digital signatures.
Create and convert PDFs
Create PDFs from more than 25 different formats or directly from paper documents and save them in PDF formats such as PDF/A and PDF/UA.
Merge several files in different formats into one PDF or create a new PDF by extracting pages from an existing PDF.
Turn your PDFs into fully editable formats such as Microsoft® Word, Excel®, and others. ABBYY's intelligent OCR and PDF conversion technology ensures a level of accuracy and quality sufficient for further effortless editing.
Digitize paper documents and scans with OCR
Easily turn paper documents, scans, and scanned PDFs into searchable PDFs with ABBYY's renowned OCR technology, which supports over 190 languages.
Prepare documents for digital archiving by converting them into searchable PDF and PDF/A formats. Apply compression to reduce file size and save storage space.
Convert your paper and scanned documents into editable files in Microsoft Word, Excel, and other common formats. ABBYY's AI-based OCR and document conversion technologies ensure excellent accuracy and precise layout retention for further effortless editing.
The OCR Editor provides advanced tools and options for enhanced control and flexibility while converting.
Compare documents in different formats (FineReader 15 Corporate ONLY)
Effortlessly identify changes by comparing different versions of a document – even when they are in different formats; for example, a PDF, scan, or Word document.
Export differences as comments as a PDF or Word document in Track Changes mode or as a separate change log.
Automate digitization and conversion routines (FineReader 15 Corporate ONLY)
Convert multiple documents automatically by setting up "watched" folders.
Schedule document conversions at pre-defined times with pre-defined settings.
Processing documents within Hot Folder is limited to 5,000 pages per month and 2 CPUs. Multiple document conversion within the main FineReader 15 user interface (New Task window) is unlimited in all product editions (Standard, Corporate).
System Requirements
Windows - Minimum
Microsoft® Windows® 10 / 8.1 / 8 / 7
For working with localized interfaces corresponding language support is required
Centralized deployment and virtualization
Microsoft Windows Server 2019, 2016, 2012 R2, 2008 R2 (including the use with Remote Desktop, RemoteApp and Remote Desktop Web Access)
Citrix Workspace App 1808 (using installed application accessed from a server), Citrix Virtual Apps and Desktops
Centralized deployment and virtualization
PC with 1 GHz (or faster) x86 or x64 processor with SSE2 instruction set
1 GB of RAM (4 GB is recommended); in multiprocessor systems, an additional 512 MB of RAM is required for each additional processor.
1.2 GB of hard disk space for typical program installation and 1.2 GB free space for optimal program operation
Video card with 1024x768 resolution or higher
An Internet connection is required to activate your serial number.
Keyboard, mouse or other pointing device
For a full list of the technical specifications, supported input, and conversion formats, as well as supported languages for document conversion and document comparison, please visit www.abbyy.com/finereader/specifications/
© 2019 ABBYY Production LLC. ABBYY, ABBYY FineReader, and FineReader are either registered trademarks or trademarks of ABBYY Software Ltd. All other trademarks are the sole property of their respective owners.
Required configuration
Windows - Minimum
Microsoft® Windows® 10 / 8.1 / 8 / 7
For working with localized interfaces corresponding language support is required
Centralized deployment and virtualization
Microsoft Windows Server 2019, 2016, 2012 R2, 2008 R2 (including the use with Remote Desktop, RemoteApp and Remote Desktop Web Access)
Citrix Workspace App 1808 (using installed application accessed from a server), Citrix Virtual Apps and Desktops
Centralized deployment and virtualization
PC with 1 GHz (or faster) x86 or x64 processor with SSE2 instruction set
1 GB of RAM (4 GB is recommended); in multiprocessor systems, an additional 512 MB of RAM is required for each additional processor.
1.2 GB of hard disk space for typical program installation and 1.2 GB free space for optimal program operation
Video card with 1024x768 resolution or higher
An Internet connection is required to activate your serial number.
Keyboard, mouse or other pointing device
For a full list of the technical specifications, supported input, and conversion formats, as well as supported languages for document conversion and document comparison, please visit www.abbyy.com/finereader/specifications/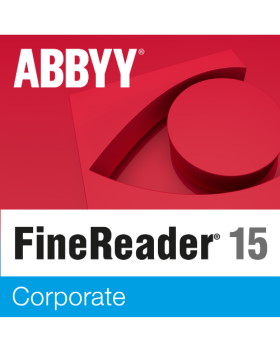 Language:

English

Genre:

Platform:

Win 7 32/64 bits Win 8 32/64 bits Win 8.1 32/64 bits Win 10 32/64 bits

Release date:

28/08/2019

Publisher