WISE-FTP 8
ABOUT THE SOFTWARE
---
The
WISE-FTP FTP
client helps you to connect to any FTP server in order to download and upload files and directories. Among other features, WISE-FTP allows encrypted and simultaneous transmissions, as well as the modification of files directly on the server.
KEY FEATURES
---
The highlights of WISE-FTP:
Connect to any FTP site!


IPv6 support: You can connect to a site by using an IPv6 address.


Intuitive user interface: Work on remote sites as if they were local files and directories, in an interface similar to Windows Explorer!


Every feature you need to easily manage your FTP servers is available here: delete, rename, copy, change or set properties of remote files and directories, and much more!


Drag & drop files and directories between the local and remote system.


Integrated HTML editor allows direct editing of files on the remote system: modify HTML or text files directly on the FTP server.


Secure authentication and file transfer: Use the SSH File Transfer Protocol (SFTP) or FTPS (FTP/SSL) protocol for maximum security.


A configuration wizard helps you with the correct configuration.


Optional encryption (RijnDael 128, 192, and 256 bits, BlowFish as well as TripleDES) and compression of files prior to or after transfer for improved security and faster transfer.


Manage and arrange any number of remote sites in well-structured directories.


Quick File View using the integrated file viewer or the appropriate Windows application.


WISE-FTP Task Planner - Schedule your transfers using this easy-to-use tool.


Simultaneous transfers of multiple files to one or more FTP servers in the background!


Macro recorder for the recording of frequently used sequences of commands.


User-defined shortcuts for program functions: Assign your own shortcuts to different program functions.


Synchronized Browsing: This new feature allows you to change the directories on your PC and the FTP server simultaneously if the directory structure is identical.


Synchronize local and remote folders and subfolders.


Move files and directories directly between remote systems without needing to download them to your local system first.


Remember transfer tasks - Save recurring transfers and reload them with a few mouse clicks.


Search for files on the remote site.


Add and organize favorites.


Edit files directly on the remote system (using the internal or an external editor; file is uploaded again after editing).


Carry out file operations (create, delete files/directories etc.) on the local system.


Mask to upload and download files.


Change the priority while up- or downloading.


Assign sounds to various commands and events.


Search and find in log files.


Detailed status information in the transfer window (transfer time, speed, etc.).


File icons.


Select multiple files.


Editable path field for fast navigation.


Specify a file name for Quick Connections to download a single file only.


Automatic detection of a server's supported features during the connecting process.


Support of Unicode-capable servers.


Possibility to preserve the file date on upload on servers with support of MFTM command.


Automatically rename files to upper or lower case during transfer.


Account name for server configuration.


Load transfer tasks from a file.


The Update Manager ensures that your software is always up-to-date.


Synchronize local and remote directories without having to transfer files individually.


Multilingual user interface: English, German, Spanish and French.


Many other great features.
SYSTEM REQUIREMENTS
---
Operating system: Windows 8, 7, Vista, XP, Server 2008 or Server 2003
1 GHz Intel Pentium IV processor or faster
512 MB RAM or more
10 MB of free hard disk space
Required configuration
Operating system: Windows 8, 7, Vista, XP, Server 2008 or Server 2003
1 GHz Intel Pentium IV processor or faster
512 MB RAM or more
10 MB of free hard disk space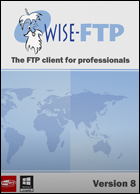 Language:

English

Genre:

Platform:

Vista Win XP Win 7 32/64 bits Win 8 32/64 bits

Release date:

30/01/2014

Publisher