DVDfab Bluray Ripper - lifetime
DVDfab Bluray Ripper - lifetime
About the Software
DVDFab Blu-ray Ripper is the first full-featured Blu-ray ripper software that is enhanced to be able to rip any 2D/3D Blu-rays to popular 2D or 3D videos, even including H.265 and 4K videos, with various format choices efficiently and effortlessly.
Rip Any Blu-ray to Video/Audio in Formats
DVDFab Blu-ray Ripper is the first full-featured Blu-ray ripper software that can read all kinds of Blu-ray discs/ISOs/folders, rip and convert them to any mainstream audio formats, 2D & 3D video formats, or devices in support of video playback. With DVDFab Blu-ray Ripper, you will instantly experience the latest and most advanced technologies, including but not limited to Passthrough, HEVC, 4K, etc., and it will always keep updating to support the newest releases and devices. In addition, during the conversion process, the metadata information of the sources, especially TV Shows, will be fixed and then applied to the resulting videos, naming each episode with the Show Title, Season and Episode Number so that your media server, such as DVDFab Movie Server, or player software, such as DVDFab Player 5, lists them clearly for effortless browsing and playback.
Made Powerful to Make Your Content Your Way
DVDFab Blu-ray Ripper, with all the latest technologies applied in and strong stability, is powerful enough to rip any Blu-ray in the manner you like. It gives you the power to freely customize the output video, letting you be a video editor and artist to personalize and brand the output video in the manner you like.
Fast and Professional
DVDFab Blu-ray Ripper, with the batch conversion, multi-threading, multi-core, the latest NVIDIA CUDA and Intel Quick Sync supports added in, is super efficient in processing Blu-ray ripping task. And you will be very clear about how far the task has been going. The rich profile is fully optimized with clear categories and rich profiles within, so that it will be very easy for you to choose a proper one that suits your devices.
Tech-savvy to Output Astonishing Quality
DVDFab Blu-ray Ripper has been in development for years to catch up with the latest technology trends. Despite the flashing processing speed, it can ensure you a smooth Blu-ray ripping process and a perfect output video with quality that is by no means inferior to the source.

Supported formats
Input
Blu-ray disk (2D & 3D), Blu-ray ISO
Output
3D Videos - 3D MKV.H.265, 3D MP4.H.265 3D MP4.4K, 3D MKV.4K, 3D AVI, 3D MP4, 3D WMV, 3D MKV, 3D M2TS, 3DTS
2D Videos - H.265, MP4.4K, MKV.4K, MPEG-4, MP4 Passthrough, MKV Passthrough, MP4, FLV, MKV, AVI, WMV, M2TS, TS, etc.
Audio - MP3, MP4, M4A, WMA, WAV, AAC, AC3, DTS, etc.
System requirements
Windows - Minimum
OS: Windows 10/8.1/8/7 (32-bit/64-bit)
Processor: Pentium II 500 MHz
RAM: 2 GB RAM
HDD: 100 GB available space
Blu-ray drive : Required
Additional Notes: Live Internet connection required to register DVDFab (little network traffic used)
Required configuration
Windows - Minimum
OS: Windows 10/8.1/8/7 (32-bit/64-bit)
Processor: Pentium II 500 MHz
RAM: 2 GB RAM
HDD: 100 GB available space
Blu-ray drive : Required
Additional Notes: Live Internet connection required to register DVDFab (little network traffic used)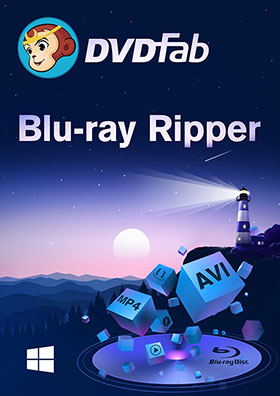 Language:

English

Genre:

Platform:

Win 7 32/64 bits Win 8 32/64 bits Win 8.1 32/64 bits Win 10 32/64 bits

Release date:

15/11/2019

Publisher