Online TV 16
About the software
Watch live TV on your PC
Watch all programs on BBC 1, BBC 2, Channel 4, itv...
Features
Record programs you want to watch again
Online TV records your favourite TV shows so that you share them with your friends and family, or during your free time.
Customise your Online TV!
Add much media as you wish: newspapers, TV channels, new radio stations. Find them directly bookmarked in your playlist.
Online TV is also...
Radio stations, webcams, videos and newspapers
Update with new content available when opening the software
Access to TV Guide in the software for your channels
More features
Live TV and streaming: Watch live TV channels with via the "Television" or "Live Streaming" modules.
You can also access many live foreign channels!
Radio Stations: Listen as many radio stations as you wish via your PC - in just 1 click!
Music videos:Online TV gives you access to a large library of music videos.
Newspapers: To follow the live news, just click on your selected newspaper and read the lastest national or international headlines.
My TV: You can add and customise your list of favourite TV channels with the module "My TV". Enter the address of the newspaper or TV channel and it will be automatically added to your playlists.
Recording: Record TV shows to watch later! Save it to access at ny time. Furthermore, you can record TV while you are offline.
Supported recording format: AVI, ASF and MPG
International Channels: Online TV gives you access to both local and international channels. Access to worldwide news and TV in just 1 click!
Replay: Miss a movie or show? Just search for repetitions!
Search function: Search with full-text search, when a show or a movie comes
New in version 16
New: Access to thousands of online radio stations - There's something for everyone:

Find it under "onlineRadio"

Improved: Real Fullscreen:

Find it at "TV" => "Fullscreen" or "Settings" / "Look"
Or simply with a double-click on the TV stream/image

Improved: Change external video window without restarting the stream:

Find it at "TV" => "Fullscreen" or "Settings" / "Look"
Show it fullscreen or change the size

Improved: The media library ("Mediathek") now supports subtitles:
Improved: Change the look with skins:

Find it under "Settings" / "Appearance"

Improved: Using EPG you can see what will come in up to 7 days:

Find it under "TV" => "EPG"
Channels available
English speaking channels:
BBC , BBC 2 , BBC 3 , BBC 4 , BBC News , BBC World , Channel 4 , Euronews , Film 4 , ITV , ITV2 , London Live , Al Jazeera , BBC Arabic News , Rapture TV , Sky News , CBS , CNN , HSN , NBC , QVC , US World , Downshift Radio • E2 Channel Iranian TV , KCLV V Las Vegas , KCTU TV Kansa , A-PAC TV • Oceanic TV , EuroSports TV , CNBC
Belgium:
ACTV , ATV , Canal Zoom , Télévesdre , TVL , TVO , Bel RTL , Evenaar
German:
3Sat , ARD , ARD EinsFestival , ARD EinsPlus , Arte Deutschland , Astro TV , Bayern 3 , Deluxe Music , Disney Channel , DMAX , Euronews , Eurosport , HR3 , JOIZ , KIKA , MDR , MTV , N24 , NDR , Nickelodeon , Phoenix , RBB , SF1 , SF2 , Sport1 , SWR BW , SWR RP , Sw3 , tagesschau24 , Tele5 , VIVA , WDR , ZDF , ZDF Info , ZDF Kultur , ADF Neo , NOA4 Norderstedt , VRF Vogtland , OKTO , ORF1 , ORF2 , ORF3 , STV , Deutsche Welle
French:
3plus , 6ter , Arte France , TF1 , BFM , Euronews , France 2 , France 3 • France 24 , Francophonie 24 , La chaîne Normande , L'équipe 21 , Lusophonie Parisienne TV , RMC Découverte , TV7 Bordeaux , W9 , Weo TV , Yve Line
Others:
Euronews (Espagne) , Real Madrid TV (Espagne) , Azteca 13 – Espagne (Mexique) , El Trece – Espagne (Mexique) , Foro TV – Espagne (Mexique) • Ocho TV – Espagne (Mexique) , Televisa Canal5 – Espagne (Mexique) , Televisa GalaVision – Espagne (Mexique) , Canal13 – Espagne (Pérou) , Canal9 – Espagne (Pérou) , SIS TV (Egypte), Tiankov TV (Bulgarie) , Greek Music TV (Grèce) , StarTV Darams (Grèce) , Irib TV 3 (Iran) , Irib TV 4 (Iran) , Irib TV 5 (Iran) , Arcoiris TV (Italie) , Canale 7 (Italie) , Euronews (Italie) • Pace TV (Italie) , Sat2000 (Italie) , Telemoise (Italie) , FNN News (Japon) , OOG TV (Pays-Bas) , RTL Z Live TV (Pays-Bas) , RTV Noord (Pays-Bas) • Salto A2 (Pays-Bas) , Zeilsteen TV (Pays-Bas) , ITV (Pologne) , TV Trwam (Pologne) , AR TV - Canal Parlamento (Portugais) , Muscel TV (Roumanie) • Euronews (Russie) , Smile TV (Russie) , TBN Russia (Russie) , TV SME (Russie) , Russia Today Docu (Russie) , Pink Plus TV (Serbie) , RTS TV (Serbie) , Film1 (République Tchèque) , HDTV1 (République Tchèque) , Hope TV (République Tchèque) , HIR TV (Hongrie) , Mako TV (Hongrie) , ME TV (Hongrie) , Zuglo TV (Hongrie) , Beyaz TV (Turquie) , Cine 5 (Turquie) • Euronews (Turquie) , Kanal 7 Avrupa (Turquie) , Show Turk (Turquie) , TRT World (Turquie) , TRT 1 (Turquie) , TRT 5 (Turquie) , TRT 6 (Turquie) , TRT Avaz (Turquie) , TRT Turk (Turquie) , TV Em (Turquie) , RT-1 (Turquie) • BRT-2 (Turquie) , GTV (Turquie) , Oencue TV (Turquie) , Olay TV (Turquie) • Usak ART TV (Turquie)
system requirements
Windows - Minimum
OS: Windows 7, Windows 8, Windows 10
Required configuration
Windows - Minimum
OS: Windows 7, Windows 8, Windows 10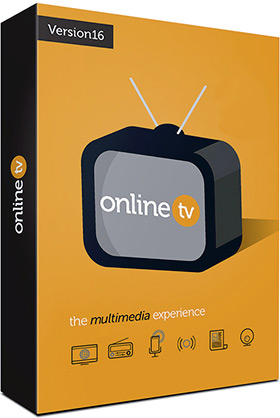 Language:

English

Genre:

Platform:

Win 7 32/64 bits Win 8 32/64 bits Win 10 32/64 bits

Release date:

17/02/2020

Publisher