Intego VirusBarrier X9 1- PC
Intego VirusBarrier X9 1- PC
ABOUT THE SOFTWARE
---
Intego VirusBarrier X9
provides real-time protection against the growing number of sophisticated malware and other security threats targeting Macs, and automatically scans files whenever they're accessed to keep your Mac free of malware. It detects all types of known Mac malware, including viruses, Trojan horses, worms, and more.
Mac Malware Is Not Just More Common, It's More Sophisticated
If danger had a recipe, these ingredients spell trouble: a growing Mac demographic, Mac users who believe the myth that Macs can't get viruses, and cyber-criminals who see value in targeting defenseless Macs brimming with sensitive personal information. Over 10 years ago, Intego discovered what is considered the first major Trojan horse in history to target Mac OS X. Since then, malware writers have targeted OS X more and more, shattering the Macs façade of invincibility. Using Intego VirusBarrier X9—anti-virus software designed specifically for the Mac—ensures that both your computer and your personal life stay clean and secure.
Intego VirusBarrier X9 Protects You from Malware Threats
Our award-wining VirusBarrier software keeps your Mac free of all varieties of malware and adware, and even safeguards against Windows threats, so you don't pass infected files onto others. We've enhanced VirusBarrier to include anti-phishing protection, Web browser settings detection to prevent you from visiting fraudulent sites, a more intuitive interface, faster scans with low-priority scan settings, and maintained its easy set up and configuration for non-technical users.
KEY FEATURES
---
Real-Time Anti-Virus with Automatic Scans Keeps You Covered 24/7
Intego VirusBarrier X9 scans files whenever they're accessed and automatically checks for updates to make sure you're protected against the newest Mac and Windows threats.
Protects Against Both Mac and PC Malware
Intego VirusBarrier X9 not only protects you from existing Mac threats, it detects all known PC-based malware so you don't spread infected files to friends, family, or work colleagues.
We Know Macs Better Than Our Competitors
Intego has built Mac software from the ground up for OS X since 1997. Other companies cram Mac features into their existing Windows platform. Trust your anti-virus protection to Intego and our Mac-specific suite of utilities.
Offers a Clean, Easy-to-Use Interface
Intego VirusBarrier X9's simple and clean functionality ensures that Mac owners of all abilities can set it up and configure it to provide immediate protection against viruses and malware.
Protects Your iPhone and iPad
Intego VirusBarrier X9 scans your iOS devices whenever they're plugged into your computer to make sure that no infected files that you received via email will pass onto your Mac or Windows machines.
SYSTEM REQUIREMENTS
---
Mac® computer with Intel® Core 2 Duo processor
Mac OS X 10.8 or higher
1.5 GB of available hard disk space
Secure Internet (https) connection required for License Authentication, Online Manual, and NetUpdate security updates
Intego VirusBarrier X9 is available in:
English, French, German, Spanish, Japanese
---
© 2016 Intego – Intego, the Intego logo, VirusBarrier X9, and the VirusBarrier X9 logo are trademarks of Intego. Apple, Mac, Macintosh and the Mac logo are trademarks of Apple Computer, registered in the United States and countries. Panda Security TM is registered in the US Patent and Trademark office. All other trademarks and product names are trademarks of their respective holders. Non-contractual document with reservation for typographical or photographic errors. Photo Intego.
Required configuration
Mac® computer with Intel® Core 2 Duo processor
Mac OS X 10.8 or higher
1.5 GB of available hard disk space
Secure Internet (https) connection required for License Authentication, Online Manual, and NetUpdate security updates
Intego VirusBarrier X9 is available in:
English, French, German, Spanish, Japanese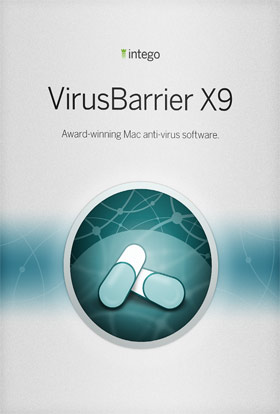 Language:

English

Genre:

Platform:

Release date:

27/06/2016

Publisher