Intego Mac Internet Security X9 1- PC
Intego Mac Internet Security X9 1- PC
MAC INTERNET SECURITY X9
---
What's Included in Intego Mac Internet Security X9?
Intego VirusBarrier
Intego NetBarrier
ABOUT THE SOFTWARE
---
Mac Internet Security X9
contains two of our best-selling security products that protect your Mac against malware and network attacks: Intego VirusBarrier X9 and Intego NetBarrier X9. Together they ensure your Mac is protected against adware, malware, strangers, and unknown applications trying to get in. Designed specifically for Mac, we provide around-the-clock protection and detect a diverse array of threats to make sure you and your Mac are given the best possible security at all times.
Macs Need Anti-Virus Protection, Just Like Any Other Computers
Mac OS X users have been misled by the common myth that "Macs can't get viruses," and that antivirus software is unnecessary. The reality is all machines are vulnerable, and devious cyber-criminals use a variety of malware that threatens Macintosh computers. Worse yet, they're not just targeting Macs— they're after your sensitive personal information and your money. You can protect your Mac and your precious data with Intego VirusBarrier X9, the most trusted Mac antivirus software.
Intelligent Firewall for Home and Hotspot Network Protection
Connected to the Internet, your Mac is no more immune to intrusion than the next computer. To the bad guys, it's just an IP Address and open ports, and accessing your personal information via these cybercriminal gateways is easier than you want to know. Intego NetBarrier X9 blocks unsolicited visitors in their tracks, keeping the bad guys out of your Mac.
KEY FEATURES
---
Automatic Scans and Around-the-Clock Protection
Intego VirusBarrier X9 scans files whenever they're accessed and automatically checks for the latest updates to make sure you're protected against the newest Mac threats as well as any Windows threats.
Protects Against Both Mac and PC Malware
Intego VirusBarrier X9 not only protects you from existing Mac threats, it detects all known PC-based malware so you don't spread infected files to friends, family, or work colleagues.
Provides Automatic Protection While You're On the Go
Use Intego NetBarrier X9 to switch to the best level of protection no matter where you are. We'll prevent strangers from accessing your Mac's contents that would otherwise be exposed in an unsecure setting.
Protects Against Unknown Devices
Want to share files with your friend at the coffee shop without worrying about the stranger in the corner? Intego NetBarrier X9 identifies devices that are trying to access your Mac and lets you decide what's allowed in and what gets turned away.
Watches Network Connections
Intego NetBarrier X9 monitors applications using your network. Whenever a connection's opened, we'll run or block it depending on what you specify. Apps using too much bandwidth can be deactivated to improve network performance.
SYSTEM REQUIREMENTS
---
Mac® computer with Intel® Core 2 Duo processor
Mac OS X 10.8 or higher
1.5 GB of available hard disk space
Secure Internet (https) connection required for License Authentication, Online Manual, and NetUpdate security updates
Mac Internet Security X9 is available in:
English, French, German, Spanish, Japanese
---
© 2016 Intego – Intego, the Intego logo, Mac Internet Security X9, and the Mac Internet Security X9 logo are trademarks of Intego. Apple, Mac, Macintosh and the Mac logo are trademarks of Apple Computer, registered in the United States and countries. Panda Security TM is registered in the US Patent and Trademark office. All other trademarks and product names are trademarks of their respective holders. Non-contractual document with reservation for typographical or photographic errors. Photo Intego.
Required configuration
Mac® computer with Intel® Core 2 Duo processor
Mac OS X 10.8 or higher
1.5 GB of available hard disk space
Secure Internet (https) connection required for License Authentication, Online Manual, and NetUpdate security updates
Mac Internet Security X9 is available in:
English, French, German, Spanish, Japanese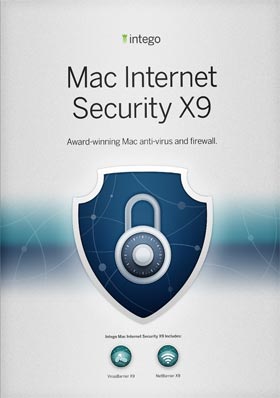 Language:

English

Genre:

Platform:

Release date:

27/06/2016

Publisher