Nero Platinum 365 2022 - 1 Year
Nero Platinum 365 2022 - 1 Year
Nero Platinum 365 2022 - 1 Year
1 YEAR always up to date – including all upgrades
1 YEAR VIP Customer Service
1 YEAR full multimedia power at an attractive price
Why Nero Platinum 365? With Nero Platinum 365 you get the full package! Experience endless multimedia power with latest updates for numerous applications and VIP customer support for 1 year. Get started now!
Nero Platinum Suite
The Nero Platinum Suite contains the following software highlights, among others:
Nero AI Photo Tagger: Order and structure in your photo archive thanks to artificial intelligence
Nero Score: Take a speed test and push your PC to its limits
Nero Video: Create, edit and export videos and slideshows
Nero DuplicateManager: Cleans your image archive of exact, duplicate and similar images quickly and accurately
Nero MediaHome: The hub for archiving, sorting, creating and playing your files
Nero BackItUp: Backs up your data quickly and easily to an external hard drive, optical media, or the cloud
Nero Recode: Convert and rip videos and music to all standard formats for your mobile devices
Nero Burning ROM: Rip, copy, burn and protect data
Nero TuneItUp: Makes your PC faster and improves your internet speed
Nero USBxCopy: This tool helps you to copy your data to multiple USB devices at the same time
Nero PhotoSnap: Let your photos shine in new splendor
Nero Soundtrax: Digitize sound carriers and implement audio projects
Nero WaveEditor: Record sound from PC and record audio files
Nero Express: Burn data and media easily
Nero CoverDesigner: Customize your discs
Nero Face Beautifier: Remove wrinkles and improve your skin tone so that you shine in the best light
Nero Rescue Agent: Recover files from damaged discs and drives
Nero Disc to Device: Transfer media from discs to devices
About the product
Nero Platinum Suite - 200+ functions in one package!
The must-have for your PC. The essential standard for 20 years.
Something for everyone:
The perfect combination of functionality and fast results.
Key features
Photos
Never again chaos in your beloved photo album thanks to new Nero AI: Now you can organize photos, tag, rate, and search images even easier. AI-based scene recognition keeps you on top of things, you can assign names to faces, and duplicate or similar images are detected faster and are easy to delete. Sort your photos by location and view your adventures on the world map, or view all your photos in an easy-to-read timeline. 1-click photo editing is included, of course. And it works locally on your PC, no cloud required!
Videos
Create a small movie masterpiece from your moving memories in no time at all: Hundreds of high-quality theme templates for holidays, occasions and events support you in doing so. Great effects add professional polish: create videos with picture-in-picture, alpha channel, tiltshift, slow motion and time-lapse effects. Edit, trim and export your videos. Get sharper than reality with the 8K playback feature. Impress your friends and stream your masterpiece on the big TV. As a gift, you can burn your movie to an optical disc.
Music
Music invigorates the mind! Now enjoy and discover your stars in a whole new way: Save your favorite songs from all music streaming services easily, quickly, legally and in the best quality. Edit and trim your music files to your liking (effects, fade-in/out, volume, etc.). Import your CD collection and easily edit metadata like artist, genre and album art.
Well over 200 solutions
Backup solution
Your data is important to us! Convenient and secure backup solutions for you: Back up your valuable data quickly and easily to external hard drives, optical media and now even to your cloud (Google Drive, OneDrive, MagentaCLOUD, HiDrive, pCloud and QLOUD). Create automated backups, incremental snapshots and version management. Protect your data with 256-bit encryption for CDs, DVDs and USB sticks.
PC Tuning
Nothing is more annoying than a slow PC. We'll give you more performance: From now on, optimize and speed up like a pro: Nero will make your PC faster, update your drivers, and improve your Internet speed. We give you total control over your PC performance. You decide whether you want to solve PC problems one by one or all at once.
Useful tools
Nero Platinum offers many other tools that perfectly complement your Windows PC: e.g. by recovering deleted data, easily encrypting your personal data, or reliably formatting and duplicating media. With Nero Platinum you get a toolbox that equips you for all eventualities.
System requirements
Windows - Minimum
OS: Windows® 7 SP1 Home Premium, Professional or Ultimate (32/64 bit), Windows® 8 (32/64 bit), with April 2014 Update (32/64 bit), Windows® 10 (32/64 bit), Windows® 11 (32/64 bit)
Processor: 2 GHz AMD or Intel® processor
RAM: 1 GB RAM
HDD: 5 GB free hard drive space
Microsoft ® DirectX ® 0 compliant graphics card
An Internet connection to download, install and run the software
DVD disc drive for the playback of DVDs
WindowsMedia ® Player 9 or higher
Internet Explorer 11 and higher
Third party components such as Microsoft .NET ® 5.2, or Microsoft® DirectX® are shipped with the product or downloaded if not included in the package
The software requires an internet connection to verify license
Ultra HD (4K) Editing requires 64-bit operating systems: Windows® 7 SP1 Home Premium, Professional or Ultimate, Windows® 8, with April 2014 update, Windows® 10
DriveSpan App: Android 5.0 and higher, iOS 12.1 and higher
Nero AirBurn App: Android 5.0 and higher, iOS 12.1 and higher
WiFi Transfer App: Android 5.0 and higher, iOS 12.1 and higher
Nero Streaming Player App and Nero Streaming Player Pro App: Android 5.0 and higher, iOS 12.1 and higher
Nero TuneItUp 2 App: Android 5.0 and higher
WiFi Transfer MAC App: MAC 10.10
Streaming highest quality resolution requires IntelHaswell (i7-4770 and above). It is recommended leaving the streaming setting in auto mode. If you experience performance problems with highest quality streaming, just use a lower quality setting
Note
On 64-bit operating systems, applications will run in 32-bit emulation mode
For the product to function properly, the devices must be correctly installed and recognized by the operating system
It is highly recommended to install the latest WHQL-certified device drivers
Setting up media access server features requires a computer connected to a local network
Required configuration
Windows - Minimum
OS: Windows® 7 SP1 Home Premium, Professional or Ultimate (32/64 bit), Windows® 8 (32/64 bit), with April 2014 Update (32/64 bit), Windows® 10 (32/64 bit), Windows® 11 (32/64 bit)
Processor: 2 GHz AMD or Intel® processor
RAM: 1 GB RAM
HDD: 5 GB free hard drive space
Microsoft ® DirectX ® 0 compliant graphics card
An Internet connection to download, install and run the software
DVD disc drive for the playback of DVDs
WindowsMedia ® Player 9 or higher
Internet Explorer 11 and higher
Third party components such as Microsoft .NET ® 5.2, or Microsoft® DirectX® are shipped with the product or downloaded if not included in the package
The software requires an internet connection to verify license
Ultra HD (4K) Editing requires 64-bit operating systems: Windows® 7 SP1 Home Premium, Professional or Ultimate, Windows® 8, with April 2014 update, Windows® 10
DriveSpan App: Android 5.0 and higher, iOS 12.1 and higher
Nero AirBurn App: Android 5.0 and higher, iOS 12.1 and higher
WiFi Transfer App: Android 5.0 and higher, iOS 12.1 and higher
Nero Streaming Player App and Nero Streaming Player Pro App: Android 5.0 and higher, iOS 12.1 and higher
Nero TuneItUp 2 App: Android 5.0 and higher
WiFi Transfer MAC App: MAC 10.10
Streaming highest quality resolution requires IntelHaswell (i7-4770 and above). It is recommended leaving the streaming setting in auto mode. If you experience performance problems with highest quality streaming, just use a lower quality setting
Note
On 64-bit operating systems, applications will run in 32-bit emulation mode
For the product to function properly, the devices must be correctly installed and recognized by the operating system
It is highly recommended to install the latest WHQL-certified device drivers
Setting up media access server features requires a computer connected to a local network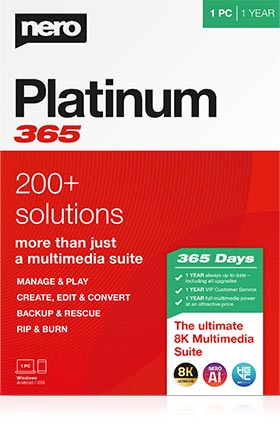 Language:

English

Genre:

Platform:

Win 11 32/64 bits Win 7 32/64 bits Win 8 32/64 bits Win 8.1 32/64 bits Win 10 32/64 bits

Release date:

12/04/2022

Publisher